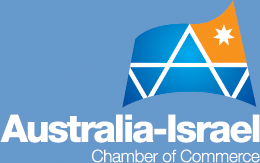 Australia Israel Chamber of Commerce
Young Business Forum
Melbourne Australia
Telephone +61 3 9820 3363
Fax +61 3 9820 3190

Address:-
Level 7
11 Queens Road
Melbourne Victoria 3004
Australia

E- mail melbourne@aicc.org.au
Web Page www.aicc.org.au


Australia Israel Chamber of Commerce Young Business Forum ( Aicc Ybf ) is a group which promotes and stimulates bilateral trade and investment between Israel and Australia. They hold trade missions and have guest speakers to talks.

Australia Israel Chamber of Commerce Young Business Forum is a networking forum for young executives and professionals whilst promoting an awareness of business opportunities between Australia and Israel.

The Young Business Forum has 3 major objectives:

1) To introduce the next generation of business leaders from a broad variety of professions in order to widen their circle of contacts.

2) To create a business information exchange where members can advise and educate each other regarding innovative ideas and business opportunities.

3) To act as a forum for contact across local Chambers of Commerce.

The Young Business Forum is members are drawn from across industries and career areas which include lawyers, journalists, salespeople, accountants, stockbrokers, people employed in mining, banking, retail, manufacturing and government.

All Young Business Forum functions combine professional development with fun activities in unique settings. Our members are all between 20 and 35, creating an energetic and social atmosphere conducive to forming friendships and developing new interests.
---
Events hosted by the Australia Israel Chamber of Commerce Young Business Forum in Melbourne include:-
Aicc Ybf Major Business Luncheon with Elmer Funke Kupper
Thursday 27 August 2008
For more information follow this Aicc ybf business luncheon August 2008 link
Aicc Young Business Leaders Trade Mission to Israel
Thursday 23-30 July 2008
For more information follow this Aicc Young Business Leaders Trade Mission to Israel 2008 link
Aicc Ybf Major Business Luncheon with the Treasurer of Australia
Thursday 5 July 2007
For more information follow this Aicc ybf business luncheon July 2007 link
Aicc Ybf Major Business Luncheon with the Prime Minister of Australia
Thursday 26 April 2007
For more information follow this Aicc ybf business luncheon May 2007 link
Aicc Ybf Major Business Luncheon with Bruce Akhurst
Friday 30 March 2007
For more information follow this Aicc ybf business luncheon March 2007 link
Aicc Young Business Leaders Trade Mission to Israel
23-30 March 2007
For more information follow this Aicc Young Business Leaders Trade Mission to Israel link
Aicc Ybf Major Business Luncheon with Sol Trujillo
Wednesday 29 November 2006
For more information follow this Aicc ybf business luncheon November 2006 link
Aicc Ybf Major Business Luncheon with Ted Baillieu
Tuesday 24 October 2006
For more information follow this Aicc ybf business luncheon October 2006 link
Aicc Ybf Major Business Luncheon with Graeme Samuel & David Koch
Thursday 29 June 2006
For more information follow this Aicc ybf business luncheon June 2006 link
Aicc Ybf Trade Mission to Israel 2005
Sunday 11 September to Friday 16 September 2005
For more information follow this Aicc ybf trade mission to israel activity link
Aicc Ybf Major Business Luncheon
Friday 18 February 2005
For more information follow this Aicc ybf business luncheon link
---
To return to the main list of events in Jewish Melbourne Events click here
For the home page of Jewish Melbourne Events www.j-net.com.au click here