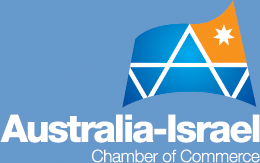 Australia Israel Chamber of Commerce
Young Business Mission to Israel

The Australia-Israel Chamber of Commerce is having a Young Leaders Trade Mission to Israel from 23-30 July 2008
Led by
Mr Ruvi Herzog OAM
Director
The Herzog Group
The Australia-Israel Chamber of Commerce invites you to join a Young Leaders Trade Mission to Israel led by Ruvi Herzog OAM, Director, Herzog Group.
The Mission, specifically designed for young CEO's, will combine topical high level business and political meetings mixed with outdoor activities in what promises to be an experience of a life time.
Delegates will meet with industry leaders from Israel's property, high-tech, clean tech, biotech and venture capital sectors.
The trip to Israel from 23-30 July 2008 will investigate the latest trends in these sectors and will provide participants with direct business opportunities.
There will be a group program as well as individual programs tailored for your specific needs where you can see and meet particular companies and network with successful business leaders.
For more information please contact Marcus Mandie on 03 9820 3363

---
To return to the main list of events in Jewish Melbourne Events click here
For more information about Australia Israel Chamber of Commerce Young Business Forum
For the home page of Jewish Melbourne Events www.j-net.com.au click here