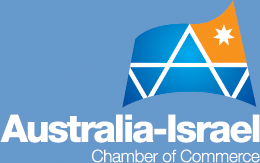 Australia Israel Chamber of Commerce
Young Business Forum

We are pleased to advise that the Young Business Forum will host a table
at the AICC's forthcoming business luncheon with
Mr Graeme Samuel AO
Chairman - Australian Competition & Consumer Commission
Thursday, 29th June 2006
Time: 12.00 pm - 2.00 pm

Venue: The Palladium, Crown Towers, 8 Whiteman Street, Southbank
Cost: YBF Rate - $66.00 per seat

The Australia-Israel Chamber of Commerce is pleased to advise that limited YBF seats are available at the AICC Major Luncheon, where Mr Graeme Samuel AO, Chairman of the Australian Competition and Consumer Commission (ACCC), will deliver a keynote address.
Mr Graeme Samuel AO is Chairman of the Australian Competition & Consumer Commission. Mr Samuel's professional career commenced as a Partner of the law firm Phillips Fox & Masel from 1972 to 1980. He then became Executive Director of Hill Samuel Australia Limited and subsequently Macquarie Bank Limited from 1981 to 1986 and co-founder of Grant Samuel & Associates in 1988.

Mr Samuel has held numerous public offices, many of which he relinquished to assume his position with the ACCC.
In 1995 he was elected a Life Member of the Australian Football League. In 1998 Mr Samuel was appointed an Officer in the General Division of the Order of Australia. In 2000, he was awarded the Australian Sports Medal, for services to sport and was appointed an Honorary Fellow of the Australian Institute of Company Directors. In 2003 he received the Centenary Medal in recognition of his service as President of the National Competition Council.

Following his address, Mr Samuel will then be joined "on the couch" by Sunrise Presenter - Mr David Koch. David Koch is one of Australia's foremost business and finance commentators.David is heard on radio stations around Australia and seen on pay television as presenter of the Sky Business Report.
As YBF seats are generally sold-out, we suggest that you book without delay to avoid disappointment.


---
To return to the main list of events in Jewish Melbourne Events click here
For more information about Australia Israel Chamber of Commerce Young Business Forum
For the home page of Jewish Melbourne Events www.j-net.com.au click here