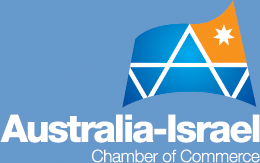 Australia Israel Chamber of Commerce
Young Business Forum

We are pleased to advise that the Young Business Forum will host a table
at the AICC's forthcoming business luncheon with

Mr Sol Trujillo

Chief Executive Officer - Telstra Corporation




Wednesday 29th November 2006
The Chamber is pleased to provide members with the timely opportunity to hear Mr Sol Trujillo, Chief Executive Officer, Telstra Corporation Limited (Telstra).
Following the recent launch of Telstra's new nationwide high-speed broadband wireless Next G (TM) network, Mr Trujillo's address comes at a significant moment in Telstra's history and is expected to be of wide interest to Chamber members and friends.
On 1 July 2005, Mr Trujillo joined Telstra and four months later, outlined his strategy to transform the company to a New Telstra. Mr Trujillo graduated from the University of Wyoming with a Bachelor of Science (Business) and later an MBA in finance from the University of Colorado. He was granted honorary doctorates from both the University of Wyoming and the University of Colorado. Mr Trujillo was the first native-born Hispanic-American to serve as CEO of a Fortune 150 company.
Mr Trujillo is also a Director of Target Corporation. He has served on the Boards of PepsiCo, EDS, Gannett and, the Bank of America. Mr Trujillo has also served as a trade policy advisor to the Clinton and Bush administrations.

As YBF tables are generally sold-out, we suggest that you book without delay to avoid disappointment.
Date: Wednesday 29th November 2006
Time: 12.00 pm - 2.00 pm
Venue: The Palladium, Crown Towers, 8 Whiteman Street, Southbank
Cost: YBF Rate - $66.00 per seat

---
To return to the main list of events in Jewish Melbourne Events click here
For more information about Australia Israel Chamber of Commerce Young Business Forum
For the home page of Jewish Melbourne Events www.j-net.com.au click here