Ncjwa National Council of Jewish Women Australia
Victoria Division
Ncjwa National Council of Jewish Women Australia Victoria Division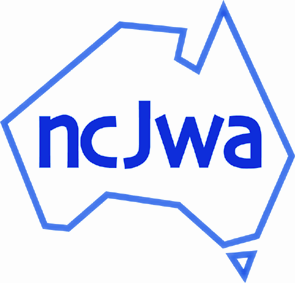 Contact Details of the Victorian Division of Ncjwa National Council of Jewish Women Australia
PO Box 2220, Caulfield Junction, Vic. 3161

Tel. (03) 9523 0535 or 0536

Fax. +61 3 9523 0156

Email ncjwvic@netlink.com.au

Website www.ncjw.org.au
NCJWA represents Australian Jewish women and presents their views, needs, interests and concerns to Federal and State governments, politicians, media, other organisations and communal sectors.

The purpose of NCJWA of Australia is, in the spirit of Judaism, to promote social justice, welfare and the advancement of women in Jewish and general communities locally, nationally, and internationally.

These aims are implemented through social activism, education, community services, promotion of multicultural tolerance and harmony.

The NCJWA agenda includes areas of environment and health, the family, education and youth, the elderly and migrants.

Women's issues are prominent in NCJWA's platform: the empowerment and education of women as leaders and community members, the advancement of women as individuals and activities on behalf of disadvantaged women. NCJWA is also involved in philanthropic support for worthy causes within the general and Jewish communities in Australia and Israel.
---
Activites Organized by the National Council of Jewish Women Victorian Division include
Sunday 12 November 2006
Legal and Financial Seminar for single women
For more information follow this National Council of Jewish Women Victorian Division Legal and Financial Seminar
---

To return to the main list of events in Jewish Melbourne Events click here

For the home page of Jewish Melbourne Events www.j-net.com.au click here