Aish Australia Event

SHAVUOT DINNER
Looking to study Torah on the day it was given, and have a yummy Shavuot dinner?
Commemorate that special gift to the Jews with all the yummy cheesecake, ice-cream and dairy food you can put away at a host family. Dinner will be followed by a special Shavuot discussion and learning till late.
When: Sunday 12 June 2005
Where: Aish will advise when you book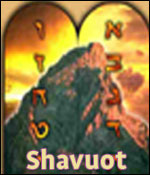 Reservations: e-mail asaffer@aish.com or call Andrew on 03 9507 2323
---
To return to the main list of events in Jewish Melbourne Events click here
For more information about Aish Australia click here
For the home page of Jewish Melbourne Events www.j-net.com.au click here