The Richard Pratt Oration 2006
The Centre for Jewish History and Culture
School of Languages, Faculty of Arts, University of Melbourne
The Centre for Jewish History and Culture presents

The Richard Pratt Oration 2006
"The Challenge Of Translating The Bible"
Faculty of Arts Dean's Lecture Series
The Centre for Jewish History and Culture invites members of the public to
Professor Robert Alter University of California, Berkeley, USA
"The Challenge of Translating the Bible"
From Ancient Hebrew to Living Literary English
7pm Thursday 24 August 2006,
Carrillo Gantner Theatre
Sidney Myer Asia Centre
The University of Melbourne
Parkville Melbourne Australia
Professor Alter will discuss the rich variety of stylistic resources that the biblical writers called upon to convey their vision of reality. These included rhythm, syntax, levels of diction, precision of word-choice, and sound-play. The existing English translations of the Bible by and large have made little effort to convey these aspects of style, and the challenge of creating a more adequate translation is as much as feasible to seek English equivalents for those features of language that make biblical Hebrew the subtle and resonant instrument of expression that it is.
Robert Alter is a Biblical scholar and a professor of Hebrew and Comparative Literature. He has written 17 books, focusing on such topics as the European novel from the 18th century to the present, contemporary American fiction, and modern Hebrew literature. He has also written extensively on the literary aspects of the Bible and is noted most recently for his translations of both the original Hebrew Pentateuch in The Five Books of Moses, and The Story of David.
This free public lecture is sponsored by The Pratt Foundation
Enquiries:
Centre for Jewish History and Culture ph: (03) 8344 5518
Dr Dvir Abramovich (03) 8344 3789
E-mail dvir@unimelb.edu.au

Car parking available for $4 after 5pm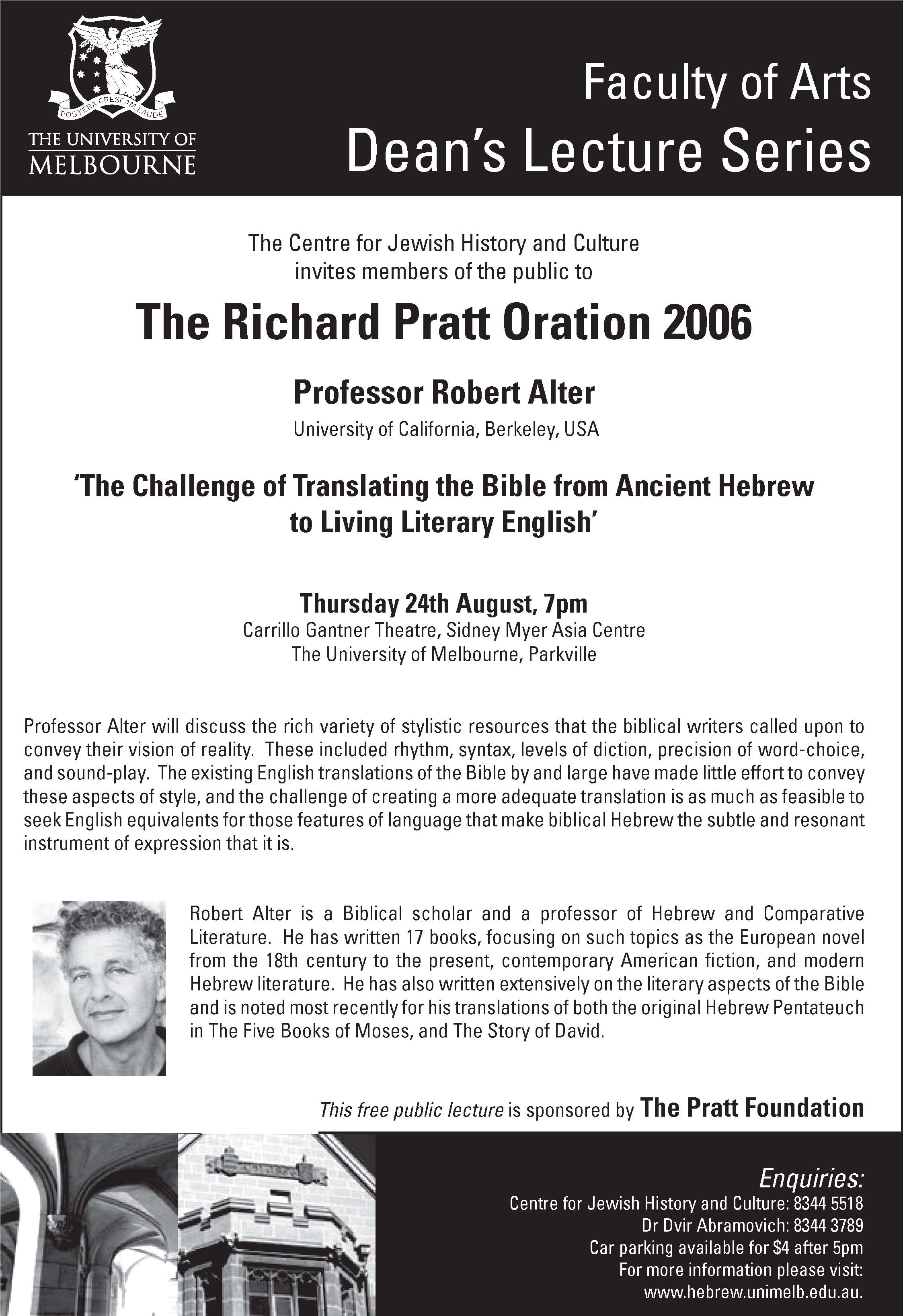 ---
To return to the main list of events in Jewish Melbourne Events click here
For the home page of Jewish Melbourne Events www.j-net.com.au click here