State Zionist Council of Victoria
Melbourne Australia
Disengagement Debate
Sunday 7 August 2005

Beth Weizmann Community Centre
306 Hawthorn Rd Caulfield South
Melbourne Australia

A formal debate has been organised by the State Zionist Council of Victoria (SZCV), the first of a new series. To be held on August 7, 2005, one week prior to the official date of Disengagement, the event will provide the community with an opportunity to hear both sides of the issue as it is debated rigorously by academics, communal leaders and competition debaters.

As the roof body of Zionist organisations in Victoria, the SZCV sees it as its fundamental role to allow for open discussion in the community on critical issues about Israel. Whilst the SZCV supports the official Israeli government of the day and its policies, it is aware of the diverse political views within the community.

"The Disengagement should proceed" will be debated by the affirmative team including Dr Dvir Abramovich, Mr Johnny Baker and Ms Ronit Prawer. On the negative team, Mr Geoffrey Bloch, Mr Sam Tatarka and Mr Victor Finkel will attempt to negate the statement. The teams are not necessarily representative of their personal views on the issue.

Chaired by Mr Mark Dreyfus QC, speakers will have set time limits and will lose points for repeating arguments. A member of the Debating Association of Victoria will adjudicate the debate, announcing the official winning team. Before the adjudicator announces his/her decision, the audience will be given the opportunity to vote for their choice.

In Israel the topic of the Disengagement is being debated within political, communal and social circles and has elicited a flood of views, opinions and criticism. The Australian community is no different to Israeli society with members of the community vocalising their support for or against the Disengagement.

"Individual views aside, the State Zionist Council stands firmly in support of the Israeli Government's decisions" said Dr Danny Lamm, President of the SZCV.

"In a democratic country like Israel or Australia the beauty of being able to hear both sides of an issue and increase involvement of community members in issues surrounding Israel is a wonderful thing. Whilst the State Zionist Council follows the official Israeli Government's line, we hope to increase knowledge of the facts and issues, and create constructive discussion in the community" said Lynne Wilson Public Affairs Director.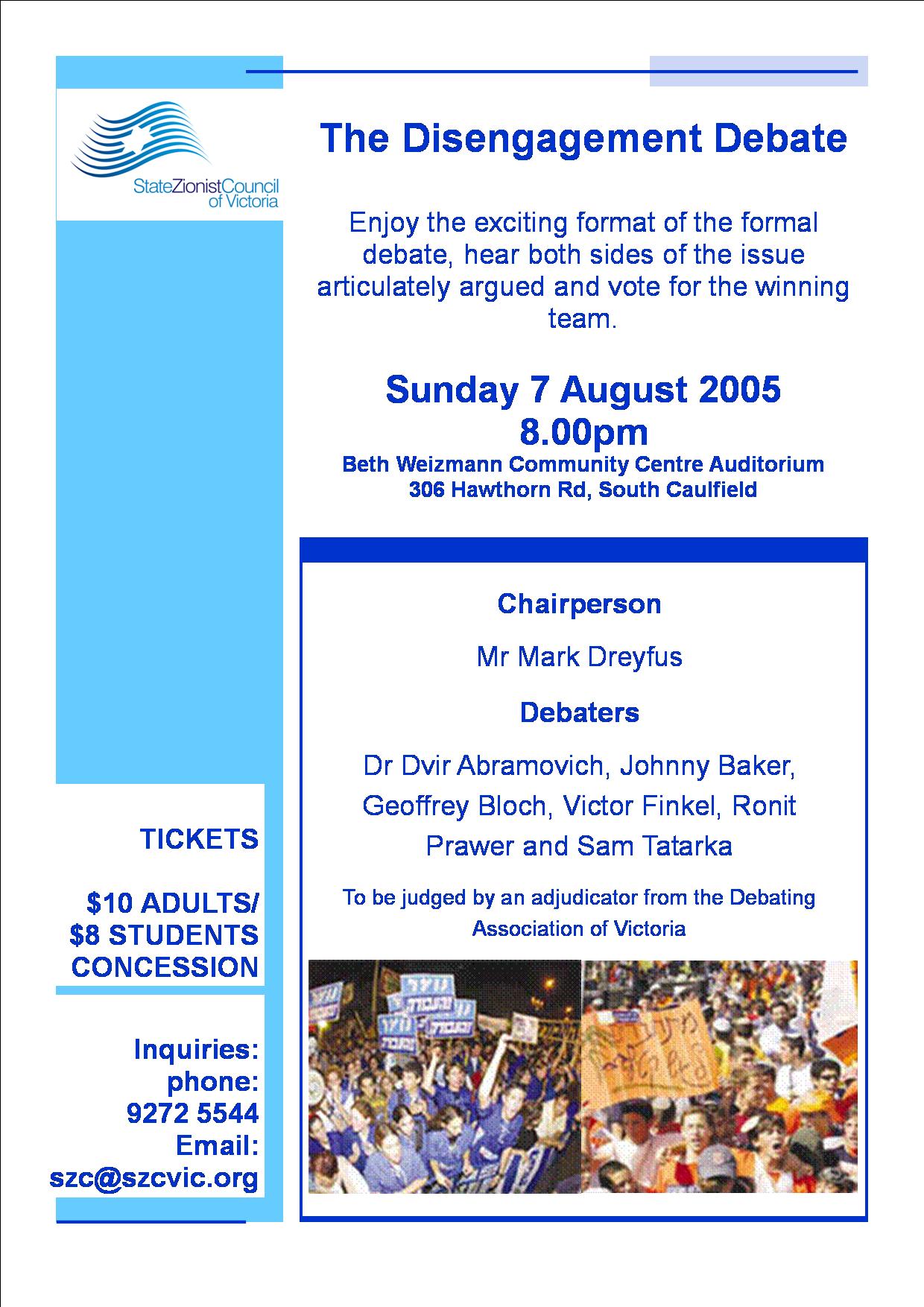 More Information
E- mail szc@szcvic.org or phone +61 3 9272 5544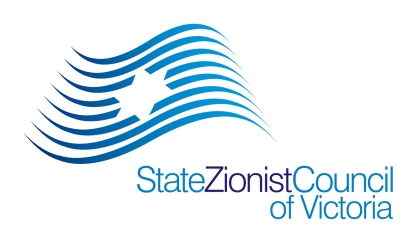 ---
To return to the main list of events in Jewish Melbourne Events click here
For more information about the State Zionist Council of Victoria Australia
For the home page of Jewish Melbourne Events www.j-net.com.au click here