Singles Weekend
Melbourne Australia
Singles Weekend
Sydney, Perth, Qld, Adelaide and Tasmania are ALL coming to
Melbourne.
Ages: 28-38,
38-48,
48-60
Date: 31st July to 1st August, 2010
Contact Debbie 0411 78 4493
Email: dkatzchai@yahoo.com.au
Early bird discounts for people who pay asap.

WHEN: Friday, 30 July 2010 at 18:30 To Sunday, 01 August 2010 at 17:00
AGENDA: Friday: Shabbat Dinner, Saturday: Kiddush Lunch & Evening Party,
Sunday: Brunch
40 registered from interstate already. Limited spaces for Friday night dinner,
book in now. ring Debbie on 0411784493
Different tables for each age group
28-38
38-48
48-58
Schedule:
Friday 30th July 2010 - Evening - (Sydney People and other's Arrive)
Dinner: 6.30pm
Shabbat Dinner Cost: $50
for bookings ring Debbie Katz 0411784493 dkatzchai@yahoo.com.au
please bring your business card or printed card with name and mobile
seating arrangements man, woman, man woman.
seat roatation after each course. people will be seated at age appropriate
table.
Saturday 31st July 2010 - Morning and Lunch
Service: 9.45am
Kiddush Lunch: 12.30pm
Lunch Cost $30
for bookings and inquiries call Debbie Katz 0411784493
dkatzchai@yahoo.com.au
Saturday 31st July 2010 - Night - Party/Dance @ 8pm
Cost: $15 - pay at the door.
Sunday 1st August 2010 -Morning
Brunch: 10.30 am
Everyone pays for their own meal.
Sunday 1st August 2010 - Evening
Sydney people and other's Depart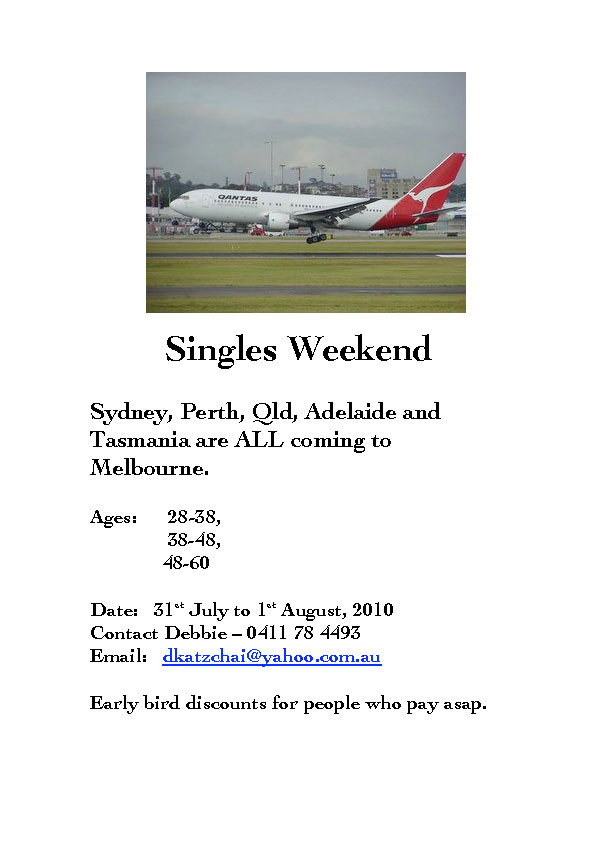 ---
To return to the main list of events in Jewish Melbourne Events click here
For the home page of Jewish Melbourne Events www.j-net.com.au click here