Saltpillar Theatre
Melbourne Australia
JOSH JARMAN
Red Rover Productions has great pleasure in offering the friends and supporters of Saltpillar Theatre a special discount offer to an advanced screening of Pip Mushin's feature film JOSH JARMAN

Be one of the first to see this fabulous new Australian comedy!

Special offer!!
2 tickets for $13.00!! (or 3 for $19.50, 4 for $26.00 etc.)
Advanced Screening
Tuesday 8th November 2005
at 6.30pm
Classic Cinema
9 Gordon St
Elsternwick Melbourne Australia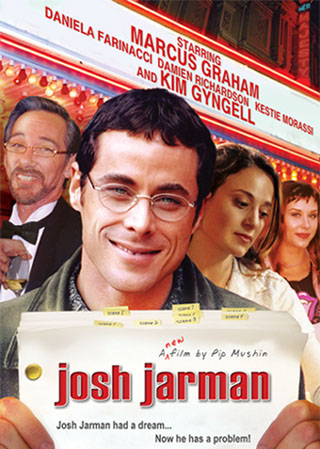 Josh Jarman only wants one thing -
to get his play produced in a proper theatre with a decent audience.
But ambition comes at a price.
Josh's 'deal of a lifetime' takes him on a crazy journey involving a hyperactive girlfriend, a ruthless producer and a creatively challenged director.
Then along comes the girl next door, who may be just what Josh is looking for…if only he knew it.
Yes, Josh Jarman only wants one thing … and he'll do almost anything to get it.
For tickets:
www.saltpillar.org.au/joshjarman.htm

---
To return to the main list of events in Jewish Melbourne Events click here
For the home page of Jewish Melbourne Events www.j-net.com.au click here