Saltpillar Theatre
Melbourne Australia
Jetlag
Saltpillar Theatre Inc. is presenting the play Jetlag

Jetlag will be performed at

The Cromwell Rd Theatre
27A Cromwell Rd South Yarra
Melbourne Australia

on Saturday 19 November 2005 at 8pm,
Sunday 20 November at 3pm & 7pm and
Tuesday, Wednesday & Thursday 22-24 November at 8pm.
Ticket prices:
$14 adult, $11 concession, $10 group bookings (min. 10 tickets, excluding Sat night).
For bookings & information, call 0423 731 266, email jetlag@saltpillar.org.au
For group bookings, call Ruth on (03) 9571 2915
WARNING: COURSE LANGUAGE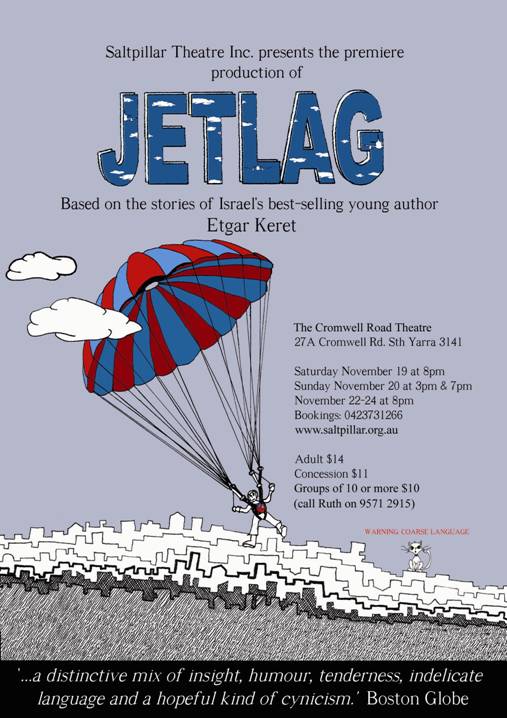 Based on The Busdriver Who Wanted To Be God,
by Israeli author Etgar Keret, adapted for the stage by Adena Jacobs and Carla Silbert
Etgar Keret is a popular writer among Israeli youth today. His books have achieved international acclaim and have been translated into 16 languages. His trail of awards includes the Book Publishers' Association's Platinum Prize, the Prime Minister's Prize and the Minister of Culture's Cinema Prize. Over 40 short films have been based on Keret's stories and his movie, Skin Deep, won 1st prize at several international film festivals and was awarded the Israeli Oscar.
In 2002, Melbourne girls Carla Silbert and Adena Jacobs were invited to adapt some of Etgar Keret's work for the Israeli Literature Festival. Four pieces were performed that year, and the girls presented a special performance of his significant piece, Katzenstein, to the author himself, who responded glowingly.
This year, Saltpillar Theatre has invited the girls to expand on Keret's pieces for a full length show and preparations are underway!
Based on Keret's sharply etched plays, Jetlag comprises eight separate pieces, linked by mood and theme, which portray characters on the edge of adulthood. Silbert says of Keret's work: `His writing is simultaneously beautiful, tragic and hilarious'.
It's a show for the adventurous. Bold, provocative, dark, funny and close-to-the-bone theatre.

---
To return to the main list of events in Jewish Melbourne Events click here
For the home page of Jewish Melbourne Events www.j-net.com.au click here