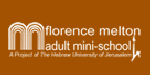 Florence Melton
Adult Mini-School
Melbourne Australia
Information Session
Wednesday 30 November 2005

A Taste of Melton "Information Evening"
for the 2006 MELTON Undergraduate Courses
Time 8 pm
is to be held at the Jewish Museum
26 Alma Road St Kilda
Melbourne Victoria 3182 Australia
To register contact melton@jewishmuseum.com.au or (03) 9505 3366

MELTON... a unique Jewish LEARNING experience...
The Florence Melton Adult Mini School

" A two year course covering Jewish history, theology, ethics, the calendar and life cycle.
Curriculum developed by the MELTON Centre for Jewish Education, Hebrew University of Jerusalem.

" Taught by experienced Jewish studies educators.

" NO education pre-requisites and NO exams

" One 2 hour class per week for 30 weeks

" Classes held Mondays 1-3:15 pm B'nai B'rith, or 8 -10:15 pm at Temple Beth Israel or Tuesday 8 -10:15 pm at Bialik College

Come to a "A TASTE OF MELTON" for 2006.

Experience a sample lesson at a FREE INFORMATION SESSION

For all enquiries contact Leah 04 0305 2641

More information www.jewishmuseum.com.au and follow the links to MELTON.
---
To return to the main list of events in Jewish Melbourne Events click here
For more information about Florence Melton Mini Adult School Melbourne Australia
For the home page of Jewish Melbourne Events www.j-net.com.au click here