Maccabi
Melbourne Victoria Australia
JOIN MACCABI VICTORIA'S ACTIVE LIVING CLUB NOW!!!
• Do you need to get into shape?
• Do you wish for increased fitness?
• Would you like to be part of a team with like-minded individual?
• Do you require motivation by fitness professionals?
• Do you want value for money?
If you answered 'yes' to any of these, the Active Living Club is perfect for you.
Walking Groups – Caulfield Park, Weekly from June 18th 2008
Wednesdays 10:00am
Thursdays 6:00pm
Sundays 9:00am
Pilates Sessions – Beth Weizman Centre, Weekly from July 7th 2008:
Mondays 8:45am – Pilates
Mondays 12:30pm - Pilates
Wednesdays 8:45am – Pilates
Wednesdays 12:30pm - Pilates
Thursdays 4:30pm - Pilates
Jogging Groups – Weekly from August 7th 2008:
Thursdays 7:30pm
Sundays 9:00am
Cycling Groups – Elwood promenade, Weekly from October 5th 2008:
Sundays 10:00am
Join now to benefit from our all inclusive membership, which enables you to participate in all activities for a one off introductory price.

$150 Introductory Membership prior to July 1st, all inclusive
$180 Full Membership post July 1st, all inclusive
$20 Maccabi Victoria membership plus $5 per session (purchase a 10 session coupon)
$10 casual session
Note: All fees must be paid prior to attending. Membership form can be downloaded from the maccabi website.
For more information, e-mail Tamara at tlevy@macvic.com.au or call (03) 9272 5660.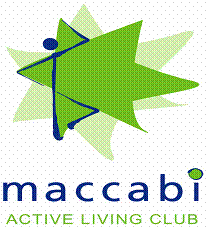 ---
To return to the main list of events in Jewish Melbourne Events click here
For the home page of Jewish Melbourne Events www.j-net.com.au click here