Jews of Melbourne Jom
JOM Bash
Are you JOM enough to handle it?
JOM - Jews of Melbourne
Party

Evening Saturday 23 February 2008
Ybar
623 Glenferrie Rd
Hawthorn Melbourne Australia

Jews of Melbourne invites every JOM and JOM lover to JOM BASH!
COST: $5 WHICH INCLUDES DRINK CARD VALUED @ $7.
Dress up in the uniform of a Melbournian Occupation
We've put together quite a party for you...
- We've got a great DJ...
International DJ Alex Jack (UK)
Fresh from his residency at Ministry of Sound and his tour of Ibiza the party island.
Resident at Robarta and Boutique Nightclubs.
- We've got games...
Pool tables and video games
- DJ playing party music - UK house, R&B 80s and a few Israeli melodies.
- PLUS...Live Percussion by Dekdrum aka David Kirsner
Theme: Melbourne Occupations/Uniforms
- Ybar is located near the corner of Burwood rd and Glenferrie Rds and is close to Glenferrie train station and the 16 tram goes by.
See you there!
More Information 041 895 7154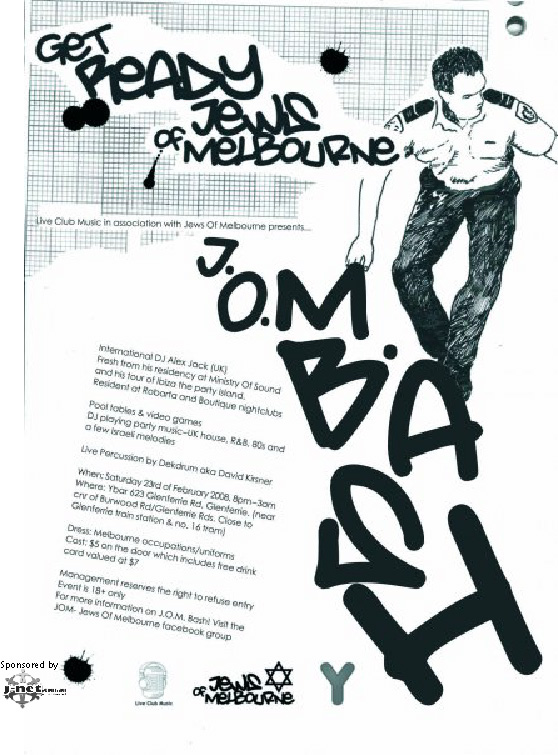 ---
To return to the main list of events in Jewish Melbourne Events click here

For the home page of Jewish Melbourne Events www.j-net.com.au click here