Hagshama
Melbourne Australia Event
Tuesday 22 March 2005
When: 8PM
Where: 306 Hawthorn Road Caulfield South Melbourne Australia
Cost $9/$7 Conc

RSVP: 03 9272 5509 or EMAIL melbourne@hagshama.org
Fly High
Cocktail Party to farewell
Assaf Liberant
and meet our new coordinator 2005!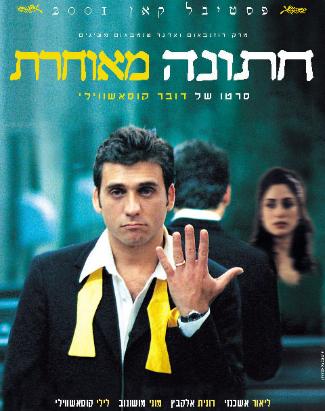 Late Marriage will be screening shortly after, for those wishing to stay...

This remarkable Israeli movie starts as a sweet romantic comedy:unmarried at 31, Zaza is an embarrassment to his family. Though they parade him past young, attractive, and eligible girls, he resists them all--because Zaza already has a secret love affair with Judith, a divorcée.

Late Marriage has an amazing richness of character and honesty about their behavior. Every turn of the story is full of lively, unexpected details; there's not a predictable moment in the entire movie.
For more information and bookings
PHONE +61 3 9272 5509
EMAIL melbourne@hagshama.org

---
To return to the main list of events in Jewish Melbourne Events click here
For more information about Hagshama Melbourne Australia
For the home page of Jewish Melbourne Events www.j-net.com.au click here