Hagshama
Melbourne Australia Event
When: Wednesday, 29th of June 2005
Time: 6:30 pm sharp
Where: Classic Cinema (note altered details & times)
9 Gordon St
Elsternwick
Melbourne Australia

Cost: $8

Light refreshments provided
Walk on Water - Israeli Film Night
followed by a facilitated discussion by Darsheni
This unique movie, is a non traditional attempt to understand the role that is still played by the past in the lives of Israeli and German young people.
A hit man for Mossad is given the mission to track down the very old Alfred Himmelman, an ex Nazi officer, who might be still alive. Pretending to be a tourist guide he befriends his grandson Axel, in Israel to visit his sister. He wants to convince her to come back to Germany for their Fathers birthday party.
The two men set out on an extended tour of the country during which, Axel's frank and open attitude challenges Eyal's rigid, clichéd values. Their friendship grows until he learns of Axel's homosexuality. With this final straw he leaves.
To finish his mission Eyal has to go to Germany. He meets Axel once more and succeeds in being invited to the family party where secrets will be revealed.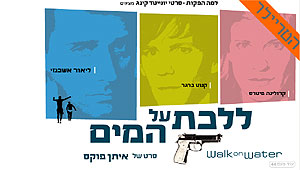 For further information about this Hagshama activity please contact Yaron
on 03 9272 5509 or 0415 764 969
or EMAIL melbourne@hagshama.org
---
To return to the main list of events in Jewish Melbourne Events click here
For more information about Hagshama Melbourne Australia
For the home page of Jewish Melbourne Events www.j-net.com.au click here