ROSENSTRASSE
Following the death of her father Hannah becomes concerned about her mother
Ruth's strange behaviour.
In an attempt to make sense of her mother's actions, Hannah travels from New
York to Berlin to uncover the truth about her mother's childhood during
WWII.
Whilst in Germany she tracks down Lena, the woman who tells her about
Rosenstrasse.
Rosenstrasse was the street where the Jewish husbands of Aryan women were
locked up in preparation for deportation.
It was the street where 100s of women stood vigil day and night in the hope
of getting their loved ones back and it was the street where Lena met and
took in the young Ruth. Lena was waiting for her husband and Ruth was
waiting for her mother. Only one of them came back.
Based on true events, Rosenstrasse is a moving story about love, friendship,
tolerance and the bonds that last a lifetime.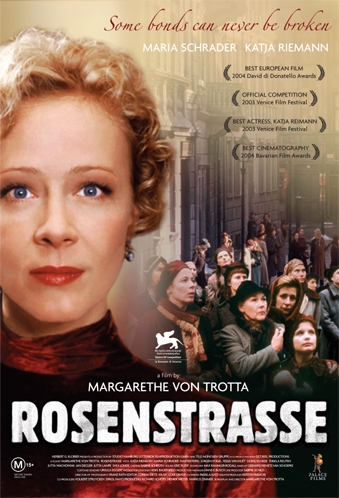 for more information follow this link www.palacecinemas.com.au

---
To return to the main list of events in Jewish Melbourne Events click here
For the home page of Jewish Melbourne Events www.j-net.com.au click here