Mujss Melbourne University Jewish Students Society
Tuesday 20 September 2005
The Australasian Union of Jewish Students and Mujss invite you to:


Trivia Night
7:30pm

Tuesday 20 September 2005
Beth Weizmann Community Centre
306 Hawthorn Road,
Caulfield South, Melbourne Australia
Come dressed as your favourite fairytale character and give tzedaka. Terrific prizes for the winning team (6 to a table) and for the best dressed. Come as a team, or as individuals. Food, drink and of course Alcohol provided.
Tickets $15 at the door, $10 pre-booked
For bookings contact Robbie Piro
bertobombo@hotmail.com
0403 110 302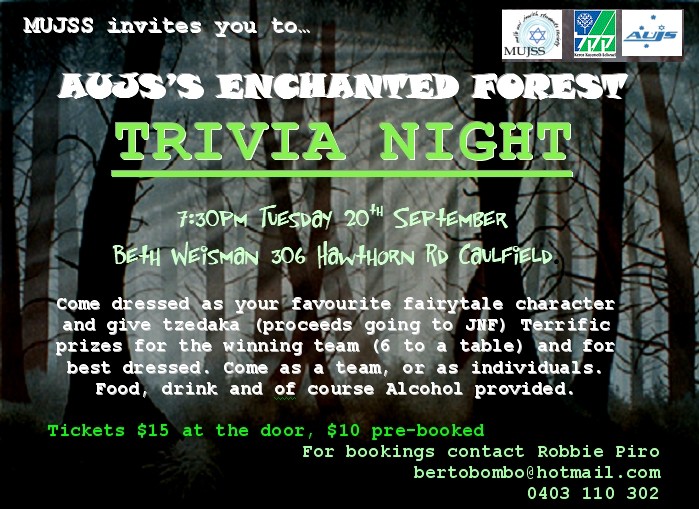 For more information telephone 03 9272 5622 or 0408 998 198

or E- mail melbourne@aujs.com.au
---
To return to the main list of events in Jewish Melbourne Events click here
For more information about Aujs Melbourne Australia
For more information about Mujss Australia
For the home page of Melbourne Jewish Events www.j-net.com.au click here