Aujs Australasian Union of Jewish Students
Aujs Tu b'Av Speed Dating
Thursday 9 August 2007
Starts 7.45pm
Tu b'Av Speed Dating
Don't have a date for the ball yet? Desperate and dateless?
Oy, join the crowd! But now, AUJS is pimp'n it up with our Tu b'Av SPEED DATING.
It's the perfect excuse to meet new people and maybe even find that special someone!
Fun and totally relaxed, celebrate Judaism's Valentines day - Tu b'av with AUJS!
Where: The St Kilda Rd ParkView Hotel
562 St Kilda Rd Melbourne Australia
(Entry off Roy St.)

RSVP/contact:
melbourne@aujs.com.au
Price: $15
Aujs Events are Proudly Supported by the Hillel Foundation of Victoria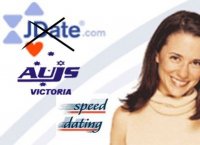 ---
To return to the main list of events in Jewish Melbourne Events click here

For more information about Aujs Melbourne Australia

For the home page of Jewish Melbourne Events www.j-net.com.au click here