Aujs Australasian Union of Jewish Students
Aujs Yom Haatzmaut

Aujs Yom Ha'atzmaut Afterparty
Depot Hotel
60 Swan St Richmond
Melbourne Australia

Tuesday 2 May 2006
The State Zionist Council Yom Haatzmaut Concert and AUJS After-party at Depot is going to be an event not to be missed!

Student tickets are only $15, if you buy your ticket through AUJS, Hagshama or any of the Youth Movements - it will include free entrance into the afterparty and transfer from the concert to the afterparty.

Entrance into the afterparty without the concert is $6.

For more information or if you wish to purchase a ticket through AUJS please contact Emma on either (03) 9272 5622 or 0438 549 497 or by email - emboandco@hotmail.com.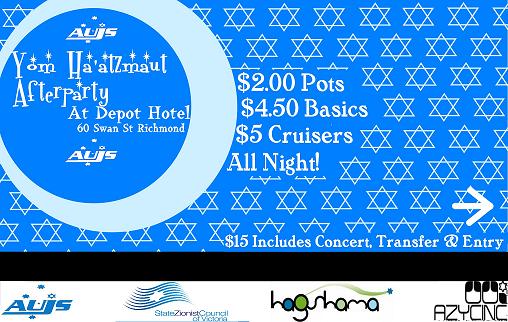 ---
To return to the main list of events in Jewish Melbourne Events click here

For more information about Aujs Melbourne Australia

For the home page of Jewish Melbourne Events www.j-net.com.au click here