Young Uia United Israel Appeal
Melbourne Australia
Mission to Israel 2006

Young Uia Mission to Israel 2006

Young UIA are hosting a federal mission to Israel this December.
This mission is a fun, exciting way to tour Israel with young adults from around Australia.

Our trip includes:
Boutique Winery Tour in the Golan Heights;
Hiking in the Galilee; Shabbat in Jerusalem;
Bedouin Cultural Experience;
Relaxing Day Spa at the Dead Sea;
Briefings by expert analysts (military and political);
Visits to UIA Projects, such as an Ethiopian Absorption Centre and Ramat Hadassah Youth Village.

ALSO - optional New Year's Eve Party in Europe with hundreds of Jewish European Young Adults."

For more Information contact 03 9272 5556
Spaces are strictly limited

---
Young Leadership Australia Mission
December 18-28, 2006

DRAFT PROGRAM
(as of 29.08.2006)
Please note: This program is subject to change.

Monday, December 18

Morning: Arrival to Ben Gurion Airport
Check-in to hotel in Tel Aviv

10:30 - 11:00 Welcome to Israel!
Opening session at the hotel, greetings by KH Jerusalem

11:00 Depart Hotel

11:30 - 13:30 Visit Palmach museum

14:00 - 14:45 Lunch

15:15 - 17:00 Visit markets in Jaffa & tour galleries

Evening: Dinner at restaurant; with Greetings from KH Jerusalem

Out to Night-club

Overnight: Dan Panorama, Tel Aviv

Tuesday, December 19

7:30 - 8:30 Breakfast at the hotel

9:00 Depart hotel

10:00 - 12:00 Archaeological Dig at Beit Guvrin

12:30 - 13:30 Visit Ayalon Institute

13:30 - 14:30 Picnic Lunch

15:00 - 16:30 Visit Hi-Tech Company + Atidim (Indigo?)

17:00 - 18:00 Lighting candles in the Pratt Rishon Letzion Community Center

18:30 Return to hotel

Evening: Dinner & "out on the town" in Tel Aviv
Out to Night-club

Overnight: Dan Panorama, Tel Aviv

Wednesday, December 20

5:45 - 6:15 Coffee & cake & hotel check-out

6:30 Depart hotel

7:00 - 8:30 Meet plane of olim from Ethiopia

Breakfast

9:00 - 10:30 Visit Absorption Centre in Lod with a guest speaker on topic of Ethiopian Aliyah

11:00 - 13:00 Travel to the Arava

13:30 Arava projects

Evening: Bedouin Experience (including dinner)

Overnight: Arava

Thursday, December 21

8:30 Depart Hotel for South

11:00 - 14:00 Tour Massada & lunch boxes

15:00 Hotel Check-in, enjoy Dead Sea & spa

Evening: Free

Overnight: Novotel, Dead Sea

Friday, December 22

7:00 - 8:00 Breakfast at hotel & check-out

8:30 Depart hotel

9:15 - 10:30 Visit Kumran

12:00 - 14:00 Arrive to Jerusalem: Visit Kotel - Schechyianu at Kotel, lunch in Cardo, time at leisure for shopping in Jewish Quarter

14:30 Hotel Check-in

16:05 Shabbat begins

19:00 Kabbalat Shabbat & dinner at the hotel + speaker for dinner
(invite Aish Hatorah to join for dinner?)

Overnight: Dan Panorama, Jerusalem


Saturday, December 23

Morning: Breakfast

Time at Leisure

Lunch

Afternoon: Walking tour of the Old City

17:21 Shabbat Ends

Evening: Dinner + speaker & "out on the town" in Jerusalem

Overnight: Dan Panorama, Jerusalem


Sunday, December 24

7:30 - 9:00 Breakfast with guest speaker at hotel

9:30 Depart hotel

10:00 - 13:00 Visit Yad Vashem

13:30 - 14:15 Picnic lunch outdoors (depending on weather)

14:30 - 15:30 Tour in Jerusalem Hills

16:00 - 17:00 Visit Knesset, meet with Member of Knesset

17:30 Return to Hotel, time at leisure

Evening: Dinner - home hospitality in Jerusalem area

Overnight: Dan Panorama, Jerusalem

Monday, December 25

7:00 - 8:00 Breakfast at hotel

8:30 Depart hotel

10:30 - 12:30 Tour Zichron Yaakov and visit the winery & Visit Nili House

12:30 - 13:30 Lunch

14:30 - 16:00 Visit Ramat Haddassah

17:30 Check-in to hotel

Evening: Dinner & kumzitz (depending on weather)

Overnight: Nofei Golan - Bed & Breakfast - website: www.nofgo.co.il
Tuesday, December 26

7:30 - 8:30 Breakfast at hotel

9:00 Depart hotel

9:30 - 10:30 Briefing on the security situation with Kobi Marom (TBC).

11:00 - 12:30 Jeep rides

13:00 - 14:00 Lunch at Katzrin

14:00 - 15:00 Visit Katzrin Winery

15:30 - 16:30 Visit IDF Army Base (Armored Corps) - meet with soldiers (TBC)

17:30 Return to hotel

19:00 Depart for Metulla

19:30 Dinner and activities at Canada Centre (skating, swimming, bowling)

Overnight: Nofei Golan - Bed & Breakfast - website: www.nofgo.co.il

Wednesday, December 27

7:30 - 8:30 Breakfast at hotel & check-out

9:00 Depart hotel

10:00 - 11:30 Arrive to Sefat - visit synagogues & galleries

11:30 - 13:15 Drive to Caesaerea, arrive to Sdot Yam

13:30- 14:30 Lunch at Sdot Yam

14:30 - 16:30 Summary Session at Sdot Yam

17:30 Check-in to hotel in Tel Aviv

Evening: Closing Dinner & party at hotel with Tel Aviv Scouts

Overnight: Overnight: Dan Panorama, Tel Aviv


Thursday, December 28

Return flight to Australia
---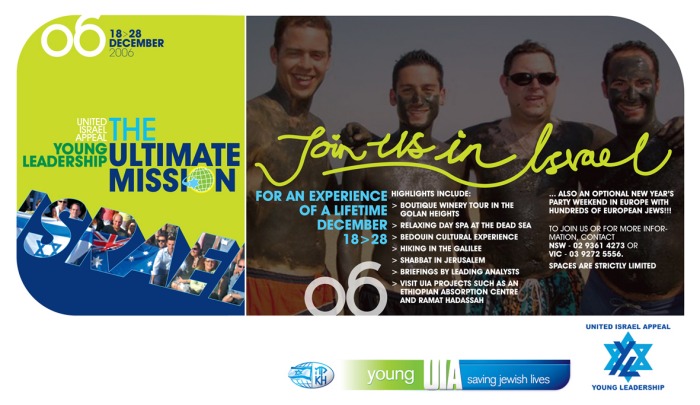 ---
To return to the main list of events in Jewish Melbourne Events click here
For more information about Young Uia Melbourne Australia
For the home page of Jewish Melbourne Events www.j-net.com.au click here